According to a report by the Voice of Kampuchea Krom (VOKK)  on the 13-14th February 2014 a Khmer Grammar book that was published in Thailand and sent to Kampuchea Krom was seized by Vietnamese authorities and prohibited from distribution.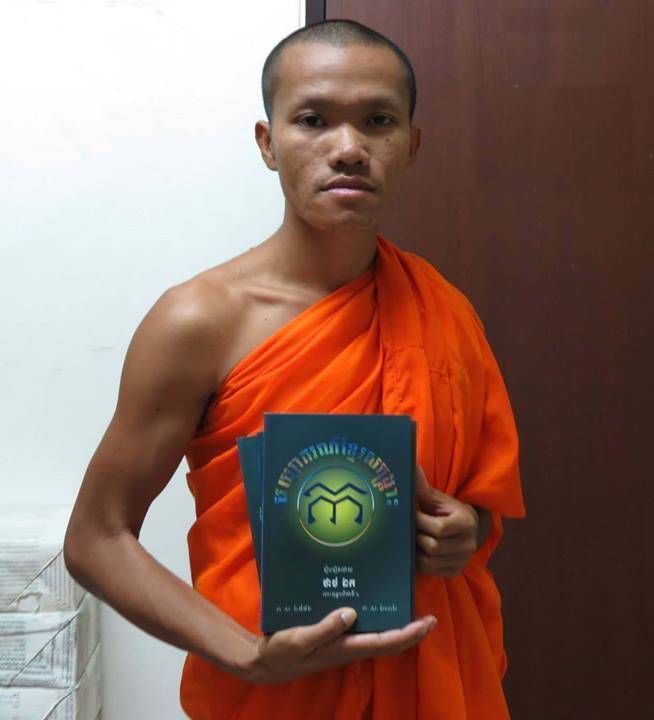 Entitled, "វេយ្យាករណ៍ខ្មែរសង្គ្រោះ" the Khmer Grammar book was originally written by Thach Ek in  Kompong Spean (rename Cau Ke) District, Preah Trapeang (renamed Tra Vinh) province and was printed and published by Venerable Thach Chan Dara, a Khmer Krom Buddhist monk studying in Thailand.
The book was sent to be distributed to Khmer Krom teachers and students as a reference guide to the Khmer language. Upon its arrival in Kampuchea-Krom on the 13th of February 2014, 10 police officers began to ask questions in regards to who created the book, published it and how was it sent over. Two books were given to the local Vietnamese authorities so the content of the book could to be examined. However,the Vietnamese authorities returned  the next day and confiscated all the books, stating that it was against the Vietnam law and that content of the book was not approved by the Vietnam Government and they were prohibited from distributing it.
"I have asked permission from the creator of this book to publish it because I thought it was important for our studies," says Venerable Thach Chan Dara in the interview with VOKK.
Venerable Thach Chan Dara has expressed his concern over the confiscated books, stating that the book was about Khmer grammar and did not contain anything political content that would oppose the Vietnamese Government.
"There is nothing lawfully wrong about this book. It does not contain any political content, or go against the Vietnam government. It serves to promote and encourage students and teachers to read and learn more about our Khmer language," Venerable Thach Chan Dara adds.
The creation and publication of Khmer books, history and culture continued to be closely monitored and prohibited by the Vietnamese Government. This example clearly shows that there are no Freedom of Press in Vietnam contrary to what what the Vietnamese government has stated in their recent Universal Period Review in Geneva on February 5th 2014.